Hibernating in Darjeeling
Darjeeling's mountain roads
"Taxi M'am, taxi? Darjeeling M'am?"… Hoards of jeep drivers were surrounding us when we got (still half woozy) off the night train from Kolkata. It was obviously colder in Siliguri, but we still had a pleasant spring feeling. Little did we know that Darjeeling (a 3 hour jeep ride into the mountains) would blow us off our socks (or should I say: blow us in an extra pair of socks) with the minus 2 degrees awaiting us.
"Here my friend, jeep to Darjeeling, only 200 INR per person". Hm, a 400 INR total didn't sound bad at all for a 3 hour ride and the jeeps actually looked comfortable enough. Our bags were taken off and put on top of the (still empty) jeep. I took a look inside: 4 headrests in the back + 2 upfront. We knew we needed to wait until the jeep was full but since time isn't an issue when you're travelling for a year, waiting isn't either. The feeling you can easily wait for hours without getting annoyed is actually pretty fabulous.
This time we didn't need to test our "zen waiting skills" though, because a family of 4 and another couple popped up and they needed a ride too. Me and Tim sat comfortably together in the back (on the 3rd row) and off we went… we thought! About 500m further down the road the jeep stopped again and apparently 2 extra people needed to get in, with us, on the backseat. Yes, that's right. I thought we would be 6 while we ended up with 11 people stuffed together.
Things got even sweeter when we started swirling up the narrow mountain roads, the weather got colder while the windows stayed open and the cute kid sitting in the seat in front of us started puking on his mom (nothing a gentle mountain stream couldn't rinse off afterwards, but we were happy we were still fresh).
We had a quick stop at Kurseong at a semi dilapidated building where we noticed the menu was changing: next to Indian food more and more Chinese and Nepali dishes popped up as we were coming closer to the borders of these countries as well.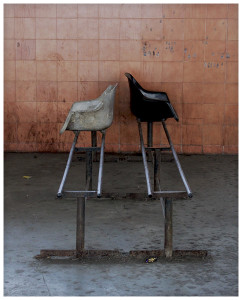 No heating in town
Time to stretch our legs and walk upwards in search for our hostel. The utterly sweet Mr. Tamang welcomed us with two cups of hot tea (and continued to do so every morning, hallelujah!) and showed us our room. For a whopping 600 INR/night we had a warm shower as well so we couldn't complain but we were a bit surprised there was no heating (luckily enough there were enough warm blankets).
Later we found out there wasn't any heating at all in the city. Every restaurant, café and shop was as cold as ice, and everybody kept their doors open as well. "You know M'am, we like the cold".The freezing cold kept us in hibernation mode the first 2 days: we took extra naps during the day. Luckily we found a balance when our bodies "started to warm up to the weather" and we took walks in the mountains which made the cold more bearable.
Trip summary
Stay: Pandim Guest House – 600 INR a night (double room with a hot shower, hot tea every morning including a warm smile and great stories from Mr. Tamang)
Food: The best breakfast ever (pancakes with banana or hashbrown with eggs and toast) at Sonam's Kitchen. For dinner we went for Yummy Thai food at The Park and great Tibetan food (and a fire place!) at Shangri-La.
Souvenirs: Tibetan Prayer flags and postcards at the Tibetan Refugee Self Help Center.
Visits: The Himalayan Zoo, Bhutia Busty Gompa, Shree Mahakal Mandir, Happy Valley Tea Estate and (although very touristy) the train station to spot the Toy Trains! (see the pictures above)
Special mention
When walking back to town after visiting the Himalayan Zoo we passed a restaurant named "Delicious Moments". We were quite hungry after a whole morning of exploring so we stepped in and we were welcomed by a guy with a big smile who later turned out the be the manager (although manager sounds a bit too fancy :)). We started talking and he told us he was also the chef and that he was actually renting the place, hoping to catch some visitors coming from the Himalayan Zoo (like us) for lunch & dinner to earn money for his ultimate dream: his own homestay.
Apparently he owns some land at his home village (not far from Darjeeling) where he would like to grow his own vegetables and have people stay over. Guests would be allowed to pick whatever they want from the garden and he would then prepare them lunch or dinner .
We really love the idea (and his entrepreneurial spirit) so whenever you're in Darjeeling: when coming from the Himalayan Zoo walk down to the main road and you'll find his restaurant. Go have a noodle soup and help this man's dream come true.