Kolkata street food
Every street in Kolkata is filled with food stalls and a lot of them sell the same thing. Unsure which one to choose? If we don't have a recommendation by someone we always go for the stall with the most (decently dressed) people eating from it. Here's a small list of the food we ate:
Jhaal Muri
Jhaal Muri (click on the name to see a picture) is a typical Bangali (east Indian) snack. There are many ways of preparing it but it's basically puffed rice with spices. Every ingredient gets mixed together at the spot, in one big metal pot, and put in a small (newsletter) paper bag. Here's the full recipe.
We bought our Jhaal Muri just around the corner of our homestay (on Syed Amir Ali Ave) and paid 5 INR (€ 0.05) for a small bag.
Kadalai Urundai
I call it "mini snickers": it's a mix of peanuts and jaggery. Jaggery is a concentrated product of date & cane juice (sticky stuff). A great dessert for a sweet tooth like me. Here's the recipe to try it out yourself.
We bought a small package of Kadalai Urundai (10pcs) at a small grocery store on Central Ave, close to Chandi Chowk Metro station for +/- 12 INR (€ 0.14).
Pani Puri
Pani Puri (aka Gol Gappa) consists of a round, hollow puri, fried crisp and filled with a mixture of flavored water ("pani"), tamarind chutney, chili, chaat masala, potato, onion and chickpeas. It is generally small enough to fit completely your mouth (it was a close call for mine, but slurping all over the place gave the Indian girls around us a good laugh).
I was lucky to have tasted it from a "mild batch", the day after the Pani Puri was much spicier apparently (according to Tim who obviously wanted to go back the day after because it was too yummie). Here's the recipe.
We had our Pani Puri at a very popular stand right across another good restaurant (Gangaur) in Russel Street. We paid 10 INR (€ 0.11 for 5 pieces).
Steamed dumplings (Momos)
At Sun Yat Sen Street you can find the Indian/Chinese morning market where you can eat excellent steamed dumplings and something called "red meat ball soup" (really don't know what "red meat" means over here). We had both for breakfast: it fills you up easily and keeps you going until late in the afternoon.
Since we got them offered by our hosts I can't say how much they cost, but if you see how much the other street food costs, you won't be paying much.
Kati Roll
Street food from the source: the Kati Roll originates from Kolkata! Pretty much any filling rolled up in any kind of Indian flatbread is called a Kati Roll. I had a veggie roll with… yes… vegetables and egg (watch out for the peppers, they are veggies too). Tim had an egg mutton roll. Ideal for lunch! Here's another recipe!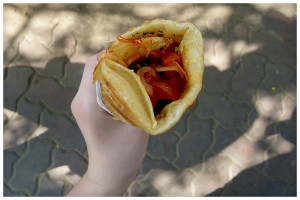 We had our Kati Rolls at Kusum, which is located in the first street on your right when coming from the Vodaphone shop in Park Street (towards the Maidan). A vegetable roll is 25 INR (€ 0.29) and an egg mutton roll is 60 INR (€ 0.70).