Kolkata highlights
We were a full 8 days in Kolkata. You can probably see all the highlights in 4 but it was nice to have some time to wander through the streets aimlessly to really catch the Kolkata vibe.
Victoria Memorial Hall / St. Paul's Cathedral / Maidan / Indian Museum
Victoria Memorial Hall
The Victoria Memorial Hall is a beautiful (European looking) white marble (!) building, inaugurated in 1921 in memory of Queen Victoria. There's a small collection of paintings inside, showing some other nice places in India like Lucknow. Unfortunately you're not allowed to take pictures.
The gardens surrounding the Memorial Hall are very tranquil and the benches next to the ponds are filled with young Indian couples. It's probably one of the only places in the city where you can see affection, kisses and hugs. We managed to get a spot on one of the benches under the trees and had a lovely view of the Hall.
€ – We paid 100 INR/person to visit the memorial and the surrounding gardens.
Getting there – We walked to Victoria Memorial from our homestay (3.5 kms) and back. You can also (always) take a taxi or the metro if there's a stop closeby to where you're staying.
Maidan
Maidan literally means "open field", and that's what it is: a big open field. There's nothing really to do but you have a nice view of Victoria Memorial Hall and if you're lucky (we weren't) you can see some people playing cricket.
€ – Free!
Getting there – A short walk from Victoria Memorial, or take the metro or taxi if you want to go directly.
St. Paul's Cathedral
A lovely peaceful spot in busy Kolkata, as you would expect from a church. I loved all the fans hanging from the church ceiling. Unfortunately taking pictures wasn't allowed either.
€ – Free, but we gave a small 50 INR donation.
Getting there – A short walk from Victoria Memorial, or take the metro or taxi if you want to go directly.
The Indian Museum
The Indian Museum is (again) a beautiful white building, and the renovated rooms plus the courtyard were nice, although more detailed information about what was "on show" would have been welcome. I though the mummy was cool to see, but there were also some slightly strange "items" like a (really developed!) human fetus in formaldehyde (uhm, yes) and many stuffed animals with a lot of stitches and robe holding them together (again: uhm, yes!). So overall a bit of an odd experience, but I guess it's a must do because of that.
€ – 150 INR and another 50 INR to take your camera with you.
Getting there – A short walk from the Maidan or take the taxi if you want to go directly.
Marble Palace / Dakshineswar / Belur Math
Marble Palace
I simply adored the Marble Palace. It's a stunning 19th century mansion with marble walls and floors, built by a wealthy Bengali merchant (and art collector!). There are some beautiful pieces of art inside (even a Rubens painting and a Ming vase) and the layout of the mansion is simply amazing (with a big courtyard, a ballroom, etc.).
Because it's still private property you're not allowed to take pictures, but luckily Google can give you a sneak preview here and here.
The narrow streets surrounding the Marble Palace are also interesting to walk through: there are all kinds of small shops and stalls giving you a good overview of the different professions in Kolkata.
€ – We gave 200 INR to the guide and 100 INR to the guard outside (if you get a permit from the Tourist Office 24h upfront, you don't need to tip).
Dakshineswar
Dakshineswar Temple is among the important Hindu temples of Kolkata and is dedicated to the Goddess Kali. The story goes that divine mother Kali appeared in the dreams of Rani Rasmani and instructed her to construct a beautiful temple on the banks of the Ganges River and install her in it. She also said that she would manifest herself in the image over there and accept her devotion.
Dakshineswar is one of the largest temples in Kolkata. It's open every day from 6:00 a.m to 12.30 p.m and from 3:00 p.m to 8:30 pm. We arrived at 2:30 and there was already a long line of devotees waiting to get inside with their offerings. Don't forget to put away your shoes BEFORE you go stand in line.
There's a line before the main entrance, and then another one on the courtyard to go inside the actual temple. It's only a quick visit inside: you give your offerings to the people working at the temple, get a quick glance of Kali and move along. We didn't give any offerings (except from a 10 INR donation) simply because Hinduism is not our religion and we don't want to copy customs that don't belong to us. All the devotees together were a beautiful sight and it was interesting to see how they experienced their religion.
€ – No entry fee but you need to pay to put away our shoes (4 INR).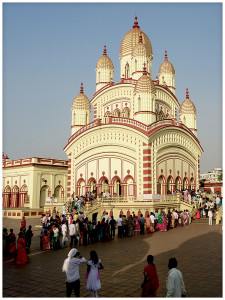 Belur Math
Belur Math lies on a beautiful green campus (lovely to stroll through) next to the Hooghly River (it splits from the Ganges and is therefor considered holy as well). The temple is notable for its architecture that fuses Hindu, Christian and Islamic motifs as a symbol of unity of all religions. Lonely Planet calls it the Indian Sacré-Coeur. I just felt like having chocolate cake after visiting it.
We went back to the heart of the city (Esplanade) by bus for only 9 INR and it was a great experience as well: you can see a part of Kolkata you otherwise won't see. You can easily sit down as Belur Math is the first stop, so just sit back and enjoy the ride.
€ – Entrance was free & you can leave your shoes outside with the rest for free as well.
The grand tour – We took the taxi from Bright Street to the Marble Palace (200 INR) and from there a taxi to Dakshineswar (260 INR). The taxi from Dakshineswar to Belur Math was another 150 INR. From Belur Math we took a bus back to Esplanade (9 INR), the metro to Rabindra Sadan (5 INR) and then we walked home.

Chinese morning market / Mallick Ghat flower market / Kalighat Kali temple
Chinese morning market
A small but interesting market at Sun Yat Sen Street where you can eat delicious steamed dumplings (aka momos) and other Chinese food for breakfast.  Next to the prepared food you can also glance at the (still moving) fish, (very alive) chicken and the (obviously non-moving) vegetables, etc. that are for sale.
€ – Free, except for the food you'll eat.
Getting there – By taxi or a short walk from the Chandni Chowk Metro stop.
Mallick Ghat flower market
Mornings are the best and the busiest time to walk through the area next to the Hooghly River (right under the Howrah Bridge). If you come from the Chinese morning market, you can follow the road and walk over a small railway bridge. It's after this little bridge the market really starts. When you take a left right after the bridge you get a great view of Howrah Bridge (and the people washing themselves in the river). At the end of the market road you can walk up the stairs onto the bridge and take some great snapshots of the market "from above".
Most of the flowers sold are yellow and orange marigolds, put together like long necklaces, used for religious purposes.
€ – Free.
Getting there – A short walk from the Chinese morning market. Keep on walking towards the Howra Bridge, you'll see the flowers popping up at your left side. 
Kalighat Kali temple
This temple was the "best prepared" for tourists: lots of stalls in the surrounding streets and "guides" quickly approaching you when you couldn't even see the temple yet. To avoid waiting in the line and because we knew the drill already (throw donations, quick peak) we didn't went in and stayed on the courtyard for some people watching.
The most interesting part of the temple was actually outside its walls: the live animal (read: goat) offerings. I didn't watch in detail but I think in only 5 minutes, three goats got decapitated and skinned. When walking back to the main street we saw some (still living) goats "waiting in line", and heard some kids crying when they were taken away (maybe they were their pet goats?).
€ – Free but you'll need to pay to put away your shoes if you want to go inside the temple (there are stalls that put away your shoes for 2 INR per pair, look for those). Don't be fooled: you can leave your shoes on if you just want to take a look at the courtyard.
Getting there – By taxi (we paid 100 INR from the Marble Palace up north) or a short walk from the Kalighat Metro stop.
Birla Mandir Temple / South Park Street Cemetery
Birla Mandir Temple
Although we were told by our hosts this temple is a bit of a "theme park thing" showcasing different Gods in one temple (which apparently is a no go), we couldn't resist to take a look when we accidentally passed it on one of our walking sprees. I simply love the way it looks on the outside: there are so many details engraved in the sandstone. The interior is the fanciest I've seen in a temple: finished with marble and grand chandeliers. I do understand why it's a "show temple", but I can't help but liking it because of the detailed finishing.
€ – Free but you'll need to pay to put your shoes away (10 INR a pair).
Getting there – By taxi would be the easiest, we walked because the temple is around the corner of our homestay.
South Park Street Cemetery
The Park Street Cemetery was one of the earliest non-church cemeteries in the world, and probably the largest Christian cemetery outside Europe and America in the 19th century. When peaking in you'll see the pathway through the tombs is gorgeous. The tombs themselves are all enormous and look beautiful between all the trees. There's really a special atmosphere.
I think it's the first "silent spot" we found in the city (because our homestay is not far away). It's a lovely place to stroll through and to read the texts written on the tombs of all the English people who lived in Kolkata over 200 years ago.
€ – You can make a small official donation (30 INR for example). We bought a booklet about the cemetery for 100 INR.
Getting there – By taxi, or a short walk from the Maidan metro stop.