Packing
So… what do you take with you when you're on the road for 13 months? Well, this list shows with what I ended my trip. This means that everything mentioned below was somehow useful along the way and survived the full trip!
The backpack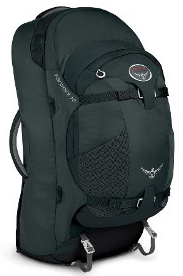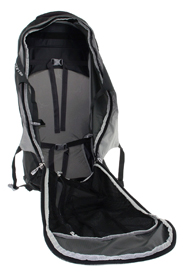 Originally I wanted to use the gear I already had: a Quecha 70l backpack which served me well on my previous (max. 3 weeks long) travels. But then T. got himself an Osprey Farpoint 70 and I started doubting. After weighing all the pros and cons (and seeing the discount online) I went for it. Here's why:
The Osprey had two options: M/L and S/M. With the S/M I have a backpack that's better adjusted to my height/weight.
The Osprey is much sleeker than the Quecha: it doesn't have many cords, clips and other stuff hanging outside the bag which makes it easier (an quicker) to put the bag on and I don't have to worry things get tangled up.
At first sight they're both 70l BUT the Osprey is actually a 52l (55l for M/L) backpack with a 15l daypack attached to it. So this is actually a downsize of 15l compared to the Quecha (because I still wanted to bring an extra daypack with me anyway).
£90 (€ 108 including shipping) was a great deal for a backpack with an all mighty guarantee and good reviews.
After a year I still love this bag to bits. It's super practical and sturdy.
Other luggage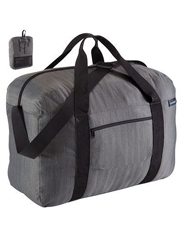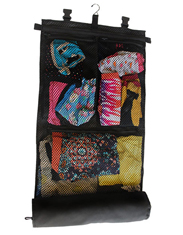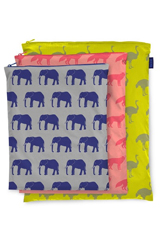 A simple backpack raincover
35l foldable hand luggage to take on flights and buses (or for when I go crazy on souvenirs "all of the sudden")
1 small combination lock (no keys: those can get lost)
T.'s mom made us tailor-made versions of this Rolo so we can save up space. We each have 2.
My handy and cheerful Baggu pouches.
I would only recommend taking a Pacsafe mesh with you when you go on a lot of night trains. We ended up only using them in India.
The essentials
Passport
Crisp dollars to pay for Visas along the way
A new Mastercard > T. and I both have separate VISA cards but decided to keep those as a back-up and use our new World Travel Mastercard as our main card. Why?

The main reason: we discovered that Beobank doesn't charge for cash withdrawals (charges are normally 2.5% of the amount you want to withdraw, with a minimum of €5) if you have transferred money to your credit card account BEFORE spending it. This results in big savings along the way. It's possible other banks have this advantage as well, but Beobank was the only one smart enough to put it literally in their terms & conditions.
We get extra insurances.
We save miles while spending money (probably resulting in a free airline ticket somewhere along the way).
The first year we don't need to pay the € 50/year fee.
Electronics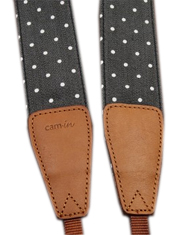 iPad + cover & small keyboard.
Canon DSLR camera + a cap for protection when I put it in my purse/bag

An extra lens for my camera, bought in Bangkok.

Small digital camera which

 came in handy when celebrating Holi (colorful powder) and Thingyan (water) though, as it could fit a small water/color resistant pouch.

Chargers
Small mouse (for design work on the computer)
In-ear headphones + splitter (to watch movies together in places where we need to be quiet)
Clothes
You'll notice I'm going with a theme here: all grey and black's to match things up easily. Plus, I think I will spice up my outfits with local souvenirs (colorful local scarves, earrings, etc.).
Shoes:
This setup is good for warm climates. After a few days at -xx° Darjeeling my toes were numb in my AllStars.

Low black All Stars
Black leather Pretty Rugged Teva sandals (with padding & waterproof)
Havaïanas
Somewhat dressier black ballerinas from H&M
Pants:

A pair of black skinny jeans from Forever21: not expensive, lightweight and it feels like I'm wearing a pyjama. Plus it's a bit more dressy than the usual travel pants.
Loose and soft pyjama-like pants.
A black long legging for colder nights and to wear under my dresses in India and Bangladesh.
Shorts!
Skirts:

A mid-length skirt

A mid-length dress
Sweaters & t-shirts

Lightweight (+ soft, warm & cheap) sweater

Some t-shirts & sleeveless tops

2 tops from Muji with a bra already in them (simply genius: very comfortable on hot days)
Underwear & socks

My lightweight hipsters are super soft & they wick moisture as well: the ideal travel underpants!
+ some extra regular underpants

And I've got some Merino Hiking Crew socks as well for long walks & cold days.
+ some extra regular socks

Jacket: 
Scarves to cover up my shoulders & legs when needed.
Toiletries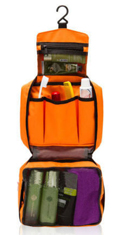 Body lotion
Day creme (SPF 15)
Deet mosquito repellent
Sunscreen 
My electric toothbrush (only because I have bad teeth and I'm not going to see a dentist for over a year), toothpaste, floss and toothpicks (I really really have bad teeth).
One year of birth control pills.
… all wrapped up in a handy travel toilet bag you can hang up.