Beach life and sharks in Kuakata
Don't let Google Maps fool you: yes, Kuakata only lies 150 km from Barisal but it will take you 5 hours by (pretty crappy) bus (including 6 ferry rides) to get there.
Most people probably don't want to make the effort to come here but we enjoyed the local feel of the "town": lots of inland tourists hanging around enjoying the sea air and watching the fisher boats lining the coast.
The one street town
Once you've arrived you'll quickly see Kuakata fits in the palm of your hand: it's tiny. There's one big street leading to the beach (lined with small food stalls and (closer to the beach) souvenir stalls filled with quirky shell art) and a few streets crossing it.
The beach looks lovely: it's suprisingly clean (compared to the beaches I saw in Goa). There are a few stalls to buy an ice cream or tea and you can rent wooden beds to sit on under an umbrella.
We did none of that and decided to take a walk away from the crowd (you'll see lots of people taking pictures in the water, and often those people are groups of men taking awkward poses together, it's fun to watch).
Sharks on the beach
After a few kms we saw a lot of wooden poles lashed together. When coming closer we saw small fishes drying. Or at least that's what we thought: the fishes turned out to be sharks. Two men sitting in the shadow kindly invited us for a small tour and showed us some other species drying in the back. We love the Bangladeshi hospitality.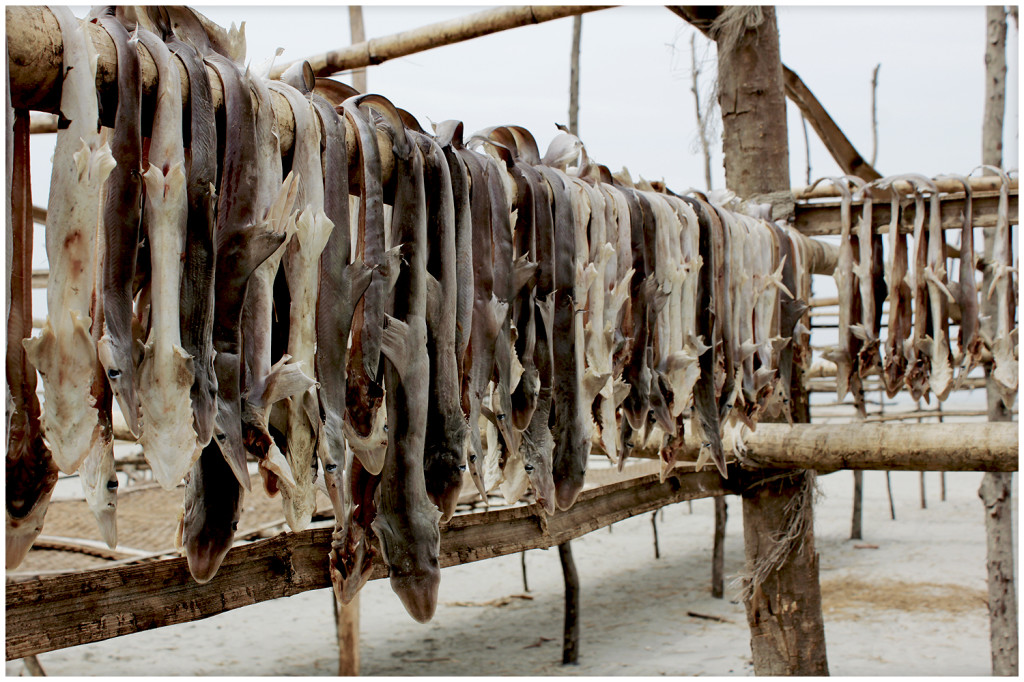 We walked back on the road with a nice overview of the whole beach, and on the left we passed some small groups of huts and a school filled with kids who started screaming (with happiness) once they saw us walking by.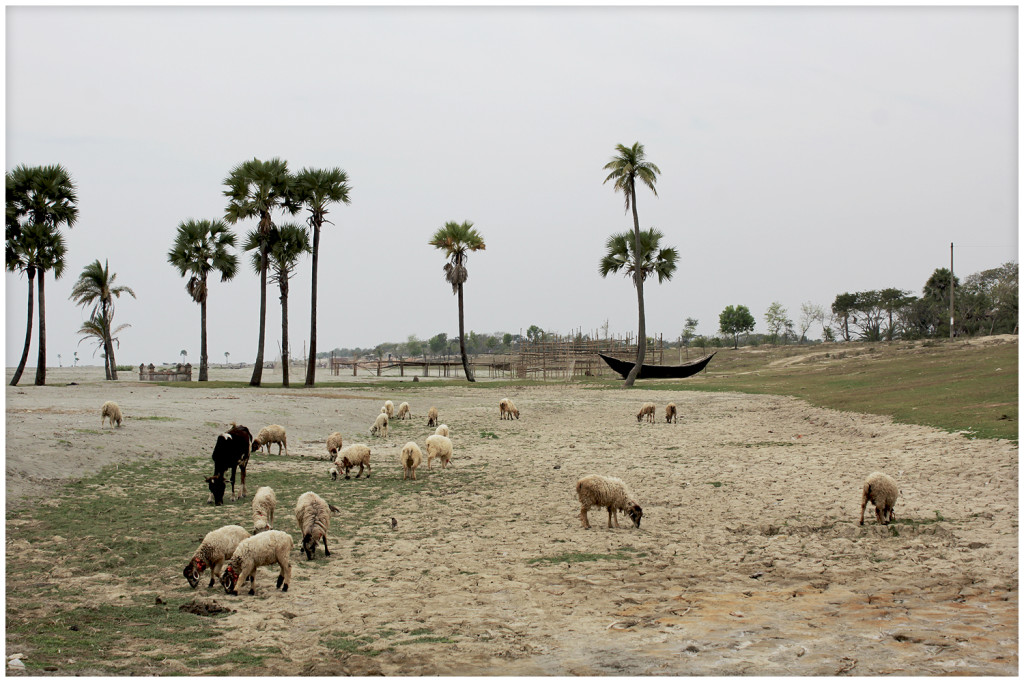 The next day we visited some small shops (nothing worth mentioning to buy here) and a Buddhist temple.
All in all Kuakata is a nice 2-day trip if you are interested to see how locals spend a day off and if you want to meet some local fishermen. You can also take a motorbike to see the mangroves (the Sundarbans aren't far away).
Trip summary
ATMs: there are none! We intended on staying one day longer to relax but we ran out of money and had to head back to Barisal.
Stay: Hotel Banani Palace, the rooms were a bit more expensive (2200 taka for a double room) but then again they were also very spacious and clean.
Restaurant: Saphired restaurant (across the Parjatan Motel) – there's only one restaurant (except for the roadside stalls) and we were lucky because they served yummie Western food (we needed some due to stomach problems :)).
Things to see: beach! (and mangroves if you like)